When it comes to searching the internet for information, shopping, or entertainment there are many search engines available to use. Popular search engine names like Google, Bing, DuckDuckGo, and Yahoo! come to mind for most people in the United States. This article intends to highlight the differences between these and note the most popular search engines outside of the US.
The most popular search engine used in the United States is Google. It currently holds 86-90% of the search engine market share and has branches worldwide. A benefit or deterrent to using Google is that it tracks your activity through its use and keeps a detailed history of search queries and site visitations. This can aid in similar or recurring searches. It can also slow down your web browser with cached cookies that are not regularly cleared.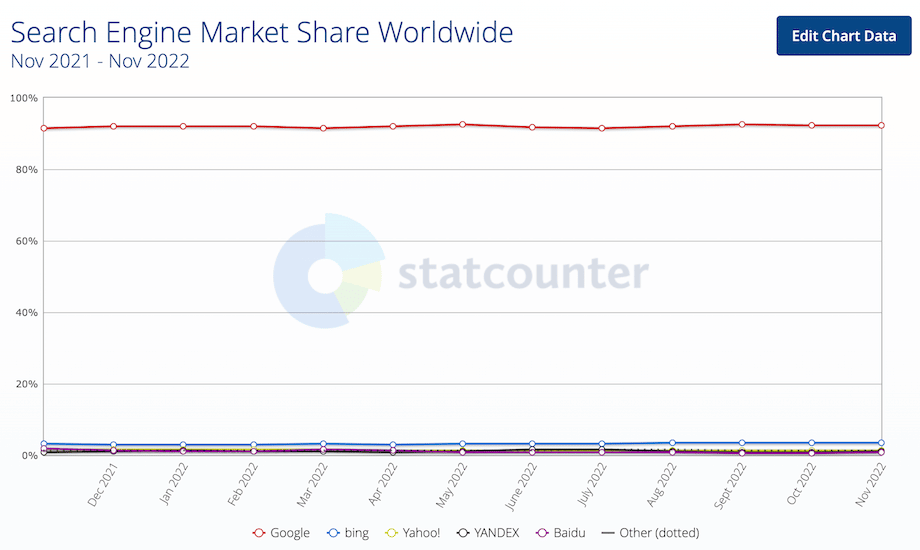 To rank on Google's search results, a website goes through three stages. It is important to note that not all pages make it through each stage.
First, is crawling, where Google's automated programs download text, images, and videos from a web page. This information is added to a list of known pages. According to Google, there is no central registry of all web pages. This is why Google's Googlebot uses URL discovery to determine which sites to crawl, how often, and which pages to add to their Google index.
After crawling, Google indexes the text, images, and video files to add to its large database. Google tries to understand what the page is about by analyzing the textual content, key content tags and attributes such as <title> elements and alt attributes. Duplicates of existing pages already indexed may be rejected from future search results.
Search results for each query are provided in a list of links to relevant sites. Relevancy is based on hundreds of factors which include, but are not limited to, the user's location, language, and devices – such as desktop, phone, or tablet.
Microsoft's Bing search engine, popularly found on their Xbox gaming consoles, was found to have handled a quarter of all search queries in the US in early 2020. This engine operates similarly to Google in its search result list layout. The listed content includes pages, page references, images, documents, videos, and similarly related items. Bing is considered more adept at video search queries as it does not follow a YouTube bias.
One of the draws to Bing is that points can be accumulated through searches that are redeemable in Microsoft and Windows stores. Another benefit to Bing is its vigilance in removing malicious links from its query results. Bing provides warnings and education to users about outdated or potentially harmful sites.
A downside to Bing is that links are listed without ranking authority. This gives new pages a difficult barrier to overcome without backlinks to existing pages that have more authority.
DuckDuckGo is generally considered to be the best choice for users wishing to keep their browsing habits and personal information private. This engine doesn't collect or store any personal information, search, or browser history from its users. DuckDuckGo blocks cookies which makes each time you use this search engine operate as if it is the first time you are using it.
A Chrome browser extension is available for desktop, iOS, and Android which provides the same anonymity across each platform. Ads that appear during query results are related to the current search only and are not based on any searches performed in the past.
Yahoo! shares similar technology to many search engines and is built on various purchased similar functionalities. It places heavy emphasis on the home page of each site with less emphasis on other site pages and inbound links. Updated less frequently than search engines like Google, links that may be lower in Google rankings may appear higher in Yahoo!.
Popular Search Engines outside of the United States
Yandex
Yandex is the 2nd most popular search engine in Russia, Kazakhstan, Turkey, and Ukraine and ranks among the top 10 search engines in the world. It relies heavily on regionality and local SEO. This makes national search engine recognition difficult for businesses. Dwell time is another key ranking factor in Yandex search results.
While backlinks help determine page authority for search engines in the US, they are less relevant to Yandex. Frequently updated page content helps to build organic traffic to sites.
Baidu
Baidu is the largest search engine in China with billions of reported searches per month. Its ranking system favors websites hosted in China and places heavy emphasis on a site's homepage. Landing pages can boost a site's ranking through direct links to the home page and its header and footer. There is a cultural belief that if a company can afford to pay for ads, it must be reliable. This gives ads on Baidu priority space in its search engine results.

While Baidu prefers sites hosted on Chinese servers, it can only index simplified Chinese characters. This makes the use of other languages difficult for it to identify.
Contact us for SEO information
We hope that this information helps to spark a meaningful conversation the next time you are ready to meet with a design agency about your SEO needs. My Website spot is always willing to provide FREE advice. If you have any questions, need assistance with how to get started on a new website project, or just want to give us feedback on this article, We'd love to hear from you! Drop us a line and we'll get in touch!