The amount of time people use or imply the phrase "near me" when looking for businesses, products, services, and other information is staggering. Service-based industries may benefit the most, but ANY business, large or small, online or with a physical location, benefit from local SEO opportunities.
Specific strategies depend on your type of business. Still, the two consistently important components of local SEO are your Google Business Profile (also known as Google My Business), and organic search results.
These components capitalize on the inherent nature of online search traffic, increase your visibility, and promote brand awareness. In this article, we will cover some of the statistics of "near me" searches, the elements of local SEO, what Google's algorithm is looking for in your local SEO, and why these are vital areas to pay attention to for small businesses.
How often do people look for nearby businesses?
Over the past five years, Google has estimated that anywhere from 30-50% of its users look for businesses in the searcher's geographical area daily. Landing on the first page of the SERP is a golden ticket for businesses to get noticed. People generally stick to the top half of the first results page, and the first three positions in Google have a 10.2 – 39.8% click-thru rate.
In December 2021, Google updated its algorithm to increase proximity weightage in local searches. Prior to Covid-19's impact on businesses in all industries, BrightLocal's 2020 Customer Review Survey found that 93% of consumers found "local" businesses through online searches in 2020. This report further broke down this number to local searches every day, multiple times a week, at least once per week, less than once per month, and not at all.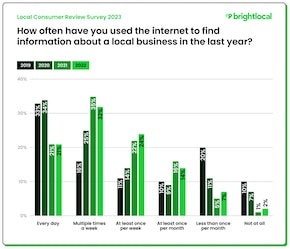 Small businesses can capitalize on this amount of local searches by ensuring their local and organic SEO make a distinct impression. If you aren't ranking on the first page of searches in your local community, refreshing your content, updating your Google Business Profile, and other small tweaks can help boost your position.
3 elements of Google Business Profiles vs. organic SEO
Google displays two types of search results for local searches, "local pack" and organic. The local or map pack contains the top local business listings and a map. You need a Google Business Profile to show up in local pack results.
Organic results are the links that fill in the rest of the SERP. Specific city, state, or "near me" keywords are not always necessary. If the algorithm believes that the intent of your search is local, Google will display results based on three elements: Relevance, Distance, and Prominence.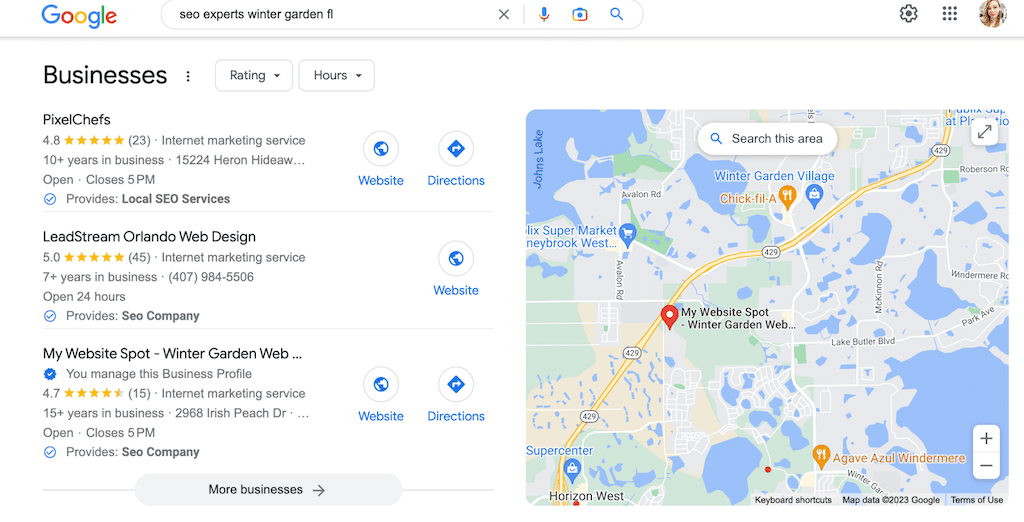 Simply put, relevance is determined by how closely related the words a searcher uses in their query to those on your site or Google Business Profile. Use the keywords you target with your content strategically throughout your profile. If you have a physical store, include deals, product or service information, and respond to reviews of these for customers who review your brand and business ethics online. More than 50% of online shoppers use their mobile phones to research more about a product while in-store. Capitalize on this and use it to your advantage.
Google determines distance based on how close the search user is to your business based on their browser information. The closer they are to your business location, the more likely you will appear in the local pack. If one of your competitors better matches the relevancy of the searcher's inquiry, your competitor will list higher.
This is one of the more detailed categories of local SEO as it deals with how important Google thinks your business compares to your competitors. The more reviews and positive ratings your customers leave, can greatly impact your local SEO. Responding to these reviews will add credibility and trustworthiness to your site. Consumers interact with reviews to gain peace of mind about your brand, business, and how you relate to your customers. You can learn more about how reviews affect your business here.
What does Google's algorithm look for in local SEO?
Your Google Business Profile is your greatest asset for local SEO. Roughly 81% of searchers use Google as their primary source for information about a business. So accuracy is critical here. These details often include your current stock of products, safety measures, and active deals.
Incorrect information found on your Google Business Profile causes an average of 63% of consumers to actively choose another business over those with inaccurate business listings. Brightlocal's business listings trust report shows the percentage of searchers who lose trust in a business when specific information is incorrect.


| | |
| --- | --- |
| Business Listing Information | Percentage |
| Phone Number | 66% |
| Address | 60% |
| Business Name | 49% |
| Opening Hours | 48% |
| Email Address | 46% |
| Photos | 45% |
Having accurate emails and photos on your business profile is beneficial, yes, but it is more the icing on the cake. Your email address and pictures of your products, services, and brand are better served on your site. Reviews with customer photos benefit people researching your business from other customer opinions. The big four to focus on for Google are phone number, address, business name, and opening hours.
When a customer gets lost on the way to your business location, it does not automatically equate to a lost sale. 40% of these customers typically call you to confirm your address, and around 24% will check it online. However, lost opportunities from misinformation about your business can be catastrophic for small businesses.
A Google 2019 study found that 60% of smartphone users contact local businesses directly using search results ("click to call" option). So if you move your business location or change your contact information, updating this information as soon as possible on your site and your Google Business Profile is vital.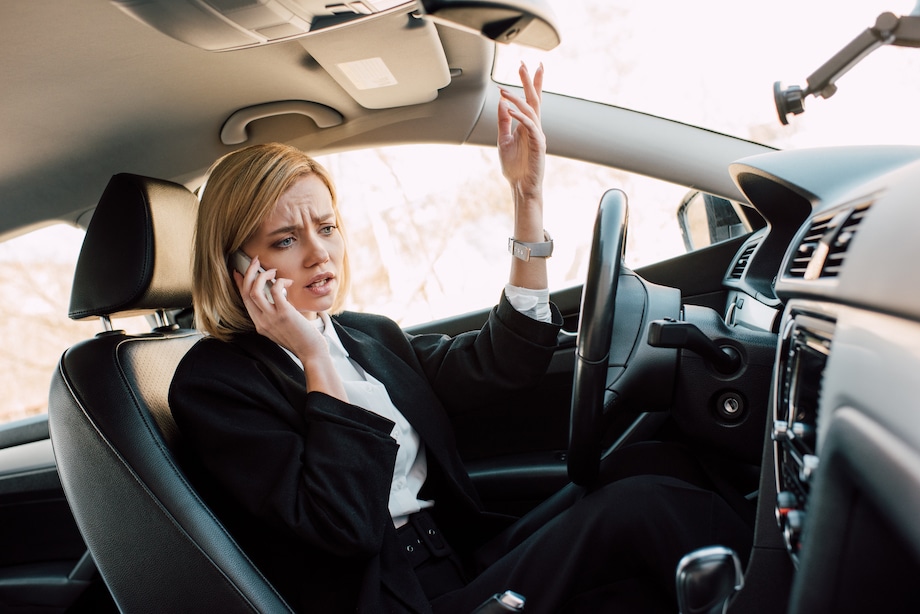 The abandonment level of customers to your business on this incorrect information is around 39%. This percentage is dependent on the type of business. For example, if you own a coffee shop, it's easy for customers to go to other cafes when they can't locate yours. If you fill a specific niche industry, however, a greater travel distance to a competitor may be the deciding factor in retaining these customers.
Business information and Opening hours
Part of confirming your address on your Google Business Profile is establishing your business name, safety measures, and general information about your business. If you have purchased or are renting your brick-and-mortar location from a prior business, verify your business with Google so that it can update Google Maps. You will also need to address the operating hours of your business.
Brightlocal's survey found that 93% of searchers use your business information to see opening hours in the last 12 months. With the number of holidays and personal business preferences, operating hours have a high variety rate. In the past year, 76% – 81% of customers arrived at businesses too early or late due to incorrect operating hours online. So maintain accurate operating hours, especially during holiday seasons, to build trust in your business.
Does local SEO matter to online-only businesses?
The internet is the fastest and most used method for information today. While searchers generally look for businesses with both physical locations and online websites, the lasting impacts of Covid-19 have resulted in searchers preferring to find information online first. Local results are the first results searchers will see when looking for businesses.
Following Google's E-A-T and YMYL guidelines to create engaging content is generally the best thing you can do for your overall SEO. Being in the #1 Spot in the SERP is not always the best goal. Desktop users are likelier to click on the first search results, while mobile users are likelier to continue scrolling to other result listings. Look at the data for your site to determine how many users click on your site from desktop vs. mobile devices and adjust your SEO strategy accordingly.
Improve your SEO strategies with an expert
Online businesses have boomed since the pandemic. While an online business may not benefit as well as businesses with physical locations, you can utilize SEO strategies to capture quality attention. You have a better chance of focusing on customers that are geographically near your target business location than spreading a wide net for online traffic only.
My Website Spot provides SEO services with a team of diverse experts in SEO strategies. If you don't have an SEO expert already, we have summarized 7 reasons to hire an Orlando SEO expert. We have decades of combined experience in multiple industries and know how to implement different targeted strategies to get you into the #1 spot in Google's SERP. Drop us a line to get started on growing your online presence.